If You Need Water Damage Restoration or Mold Restoration for Your Atlanta, GA, Home or Business, Choose Abatement Solutions Inc.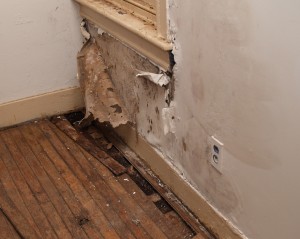 At Abatement Solutions Inc., we specialize in offering water damage restoration and mold restoration services that can make your Atlanta, Georgia, home or business look like new. Time and time again, we've seen how even small water leaks can affect structures and allow toxic mold to grow, potentially endangering a building's occupants. Our expert staff knows how to combat water damage by drying out a wide range of building materials, reducing humidity in the affected spaces, and correcting any damage that water has caused. To extract water and dry your home, we'll use structural drying equipment such as water extractors, air movers, and de-humidifiers. We'll regularly test the progress of the dry-out using moisture meters, until we're sure the affected environment is no longer conducive to mold growth.
During the water damage restoration process, we'll go to great lengths to salvage damaged items in your home, but porous, mold-impacted surfaces – such as drywall – may need to be removed. Luckily, you won't need to hire another company to rebuild these damaged surfaces. After we've eliminated the mold in your Atlanta, GA, home using our EPA-registered, low-VOC mold remediation treatments, we can rebuild any structures or fixtures that were too damaged to salvage. As with all of our services, we'll complete our water damage restoration work with exceptional craftsmanship and attention to detail.
As part of our water damage restoration and mold restoration services, Abatement Solutions Inc. – or one of our trusted partner contractors – can expertly rebuild any of the following parts of your Atlanta, GA, home or commercial property:
Sheetrock
Flooring
Baseboards/molding
Cabinetry
Framing
And much more
To prevent future mold from growing in your home, we can then apply a low-VOC preventative coating on any surfaces that are susceptible to mold growth. We have such confidence in this protective coating that we back it with a 10-year warranty, which states that we'll remediate the contamination free of charge in the unlikely event that mold does grow back on the treated surfaces.
So, if you want to hire a company that can meet any needs you may have related to water damage restoration or mold restoration, contact Abatement Solutions Inc. today. Our trusted Certified Mold Remediation Contractors will provide you with exceptional service every step of the way – from the initial phone call to when your Atlanta, GA, home or business is back to normal.